About Artery Aneurysms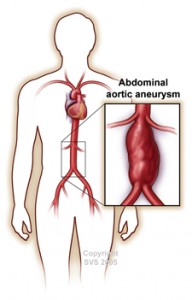 What is an Aneurysm?
An aneurysm is an abnormal bulge in the wall of an artery. They can occur in any artery of the body, the most commonly in the abdomen, pelvis, chest, and legs. The most common artery affected by aneurysms is the aorta, which is also the largest artery in the body. Aneuryms are usually not symptomatic until they rupture. They are usually diagnosed by physicians either by physical examination or through radiology / x-ray studies, such as CT scans, MRI, or ultrasounds.
Aneurysms usually develop in sections of arteries where the pressure is strongest, often in areas where blood vessels divide and branch off to other parts of the body. Aneurysms are extremely risky.  If an aneurysm bursts it can cause life-threatening internal bleeding. Approximately 15,000 Americans die each year from ruptured aortic aneurysms alone.  Ruptured aortic aneurysms are cited as the 10th leading cause of death among men over 50 in the United States. Other risks of aneurysms include the development of blood clots.  Blood clots can form in an aneurysm and block blood flow to parts of your body, leading to blood flow related complications.
Aneurysms can be caused by illness or injury, but some people are genetically predisposed to aneurysms due to the poor elasticity of their arteries. Many people with aneurysm have other known family memers who have also been diagnosed with aneurysm disease. Other risk factors for development of aneurysm include: aging, plaque buildup, cigarette smoking, high blood pressure, history of heart disease or peripheral artery disease, and blood infections.
Hardening of arteries is often associated with aneurysms. Lowering blood pressure and cholesterol levels may reduce the risk of developing aneurysm. Additionally, eating foods lower in fat, cholesterol, and calories, aerobic exercise, quitting smoking, and maintaining a healthy body weight are all changes that could also lower the risk of developing another aneurysms.
Treatment & Aneurysm Repair Procedures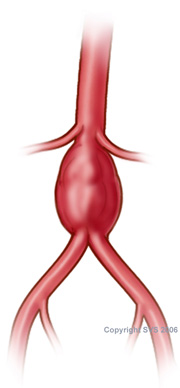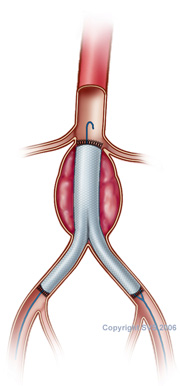 Once an aneurysm is identified, treatments typically vary depending on the size and location of the aneuryms. Some aneurysms may be treated with medical management, including blood pressure control and close surveillance with periodic examination and radiology studies.
Other aneurysms may require repair by a physician. Treatment could include artery catheterization in which stents or embolization coils ("plugging" of the artery) is performed. Other aneurysms may require traditional "open" surgical operation. The outlook on surgical intervention or catheterization is generally excellent if the aneurysm is caught in time.
There are two common approaches to aortic aneurysm repair (the most common aneurysm type): traditional "open" or surgical repair and "stent-graft" or endovascular repair. During open aneurysm repair, the weakened part of your artery will be replaced with a hose-like rubbery material which will allow the blood to pass easily through it. Endovascular stent-graft repair is performed with catheters being threaded through the arteries by incisions in the groin area under x-ray guidance. This stent procedure is considered less invasive and is also considered to be associated with less risk and faster recovery. Surgery time depends on several factors including area of aneurysm, aneurysm size, and aneurysm type.
Eligibility for Specific Types of Aneurysm Repair
The best method to repair an aneurysm and the type of surgical approach to take depends on several factors, including the risk of rupture, the location and shape of the aneurysm, and the general health of the patient. An aneurysm stent or coil procedure with catheters tends to be associated with less pain and faster recovery time. But some anatomical constraints can make an open traditional surgical repair a better alternative in some individuals.   Stents are more likely to require more regular periodic maintenance and closer follow-up than the traditional open surgical procedures. Your vascular specialist will help you decide what the best method of treatment is for your particular situation.
Post-Surgery & Recovery After Aneurysm Repair
Traditional open surgical repair of aneurysms typically involves a longer hospitalization and recovery time compared to stent-grafts. You would expect to be in the hospital for around 5 days after "open" surgery for an aneurysm repair. Because of the less invasive nature of the endovascular stent-graft repair or catheterization procedures, patients' hospital stay may be reduced to 1-2 days. Recovery time varies by patient and their level of strength and number of medical problems.
Common Aneurysm Types
Aortic Aneurysm (aneurysms of the aorta) are the most common type of aneurysm. The aorta is the largest artery in the body and travels from the heart all the way down into the pelvis.  The abdominal or stomach portion of the aorta is the area most commonly affected by aneurysm formation. This particular aortic aneurysm is referred to as an Abdominal Aortic Aneurysm, or more commonly a AAA.  The risk of developing an aortic aneurysms increased with age, and is 8 times more likely to occur in those who have been smokers of cigarretes.  It also has a genetic component, so it is much more likely to occur in an individual who has family members with the condition. When diagnosed with an aneurysm, it is important to immediately get evaluated by a vascular surgeon specialist for recommendation on management and treatment. Often treatment is recommended when the aneurysm reaches over 5 centimeter in size.  After this size, the risk of aneuryms rupture increases significantly.  It is very important to have good blood pressure control and avoid hypertension if you are diagnosed with an aneurysm.
Risks
There are over 15,000 deaths annually in the US as a result of aneurysm rupture.  Ruptured aneurysm are the 10th leading cause of death in men over age 50 in the United States.  The best chance of preventing rupture is surgical repair, either with a stent, embolization, or with traditional open surgery.  As with any surgical procedure there are risks associated with aneurysm repair surgery. However, greater risk lies in ignoring problems that could be symptomatic of an aneurysm or deeper health issue. Patients should actively discuss symptoms and concerns with their vascular specialist. If surgery or treatment has been decided on, personal health or lifestyle issues (i.e. smoking, diet, and exercise) that could be factors in the success of their surgery must be discussed with their healthcare providers.